Pressure eases off the brake pedal. Slowly but surely, the pandemic that shut down gaming has less force.
Operators await business beyond Covid-19. And tribal properties, like their commercial colleagues, will benefit from those who innovate ahead of the post-pandemic curve.
Casinos are already placing social distances and guest separation into their plans to gain an edge for the future. Sharp vendors serving tribal gaming interests are both anticipating and reacting to market needs.
Building Outside the Box
HBG Design has a long, storied presence in tribal gaming. Principal Dike Bacon says the company has worked with more than 40 sovereign nations across the United States, bringing their strategic visions to life through the design of award-winning casino resorts.
Along that journey, the company took a game-changing side trip in the past couple of years. Its innovative SafeBet product allows properties to continue to operate amid Covid-19. The concept of SafeBet can also spread to other industries.
"As creative people and problem-solvers, it's in our DNA to design with the intention of making places and spaces better," says Bacon. "That's fueled the creation of our SafeBet slot pods, which HBG designed in 2020 and is patenting. We're now manufacturing SafeBet through our partnership with KGM Gaming."
The pods offer social distancing "with additional layers of comfort and personal space," says Bacon. "SafeBet literally creates the safest seat on the gaming floor, with the only personalized ventilation system available in the market today." Its patent-pending UVC Breathing Zone kills 99.99 percent of airborne pathogens and bacteria.
"Think of it like this: As a guest in a casino, playing at a slot machine that has the SafeBet product, you essentially have a personal ventilation cleaning system working for you and killing pathogens in the air immediately around the you while you play," says Bacon. "It's a win-win for owners and their guest… What we're doing with SafeBet is providing a path for owners to maximize floor space and push revenues higher, while offering the kind of protection that provides guests with peace of mind."
The breakthrough product was part of HBG's multiple-faceted approach to the crippling pandemic.
"One of the biggest takeaways from Covid in our industry is the focus on making cleanliness, safety and wellness top priorities," Bacon says. "The perception of cleanliness is paramount in bolstering a positive feeling of safety and well-being among guests, but the measures operators take have to work."
Bacon says current design projects show better utilization of interior and exterior spaces, blurring the lines to bring the outdoors in and the indoors out. This is especially true in food and beverage, in which seating capacities can be increased with little to no new square footage. Designers are rethinking how to seat and serve guests to achieve social distancing, and compartmentalizing spaces in a natural, fluid manner.
"We've been analyzing and re-purposing existing space—often square footage that's underutilized or, in some instances, unused, in the casino," says Bacon. "We're weaving design- and facility-planning principles with emerging technologies to develop responsive design solutions."
Beyond safety breakthroughs, HBG retains a presence as an industry heavy-hitter, ranking among the Top 5 hospitality design firms in the country for more than a decade, according to Bacon.
"We're one of only a handful of design firms working in the tribal sector that's laser-focused on hospitality and entertainment design as the core of what we do, and that's a real differentiator," Bacon says.
Many of the firm's Indian gaming clients continued to pursue projects during and despite Covid-19, both on the design side and in new construction. The prevailing attitude was that the calendar doesn't stop, and lost time is lost revenue.
Two projects opened recently: the 1.2 million-square-foot Desert Diamond West Valley Resort in Glendale, Arizona, and the $180 million, 459-room, Four Diamond hotel expansion at Cache Creek Casino Resort in Brooks, California, outside Sacramento.
In addition to gaming, both projects include a diverse range of non-gaming amenities targeted to each region's specific market and guest demographic.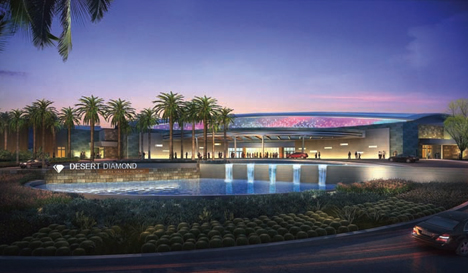 Completion of the Desert Diamond West Casino in Glendale, Arizona proceeded despite the Covid 19 pandemic