Read the full article above or here.
The new Diamond VIP Lounge at Desert Diamond West Valley Casino in Glendale, Arizona was meant to dazzle—literally.
Diamonds are meaningful symbols in the culture of the Tohono O'odham Nation, which owns and operates the gaming property. Inspired by the brilliance of the stones, the team at HBG Design introduced ambient lighting to illuminate the new lounge and new high-limit room.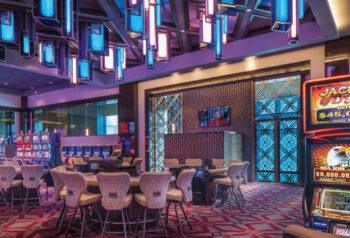 Heightened by diamond-like patterns, the light refracts on gleaming upscale finishes throughout the space, including marble and decorative glass tiles, vibrant pendant lighting, fractal-patterned screening and carpeting, and jewel-toned fabrics.
Together, the elements create a truly luminous environment, grounded by a sophisticated desert-toned palette that calls to mind the sculptural features of the earth. The high-limit area, adjacent to the lounge, continues the jewel-inspired design scheme.
The aesthetic of the property derives from a concept called "The Dynamic Earth," inspired by the vibrance and energy of the desert landscape. It is echoed in unique design interpretations in multiple food-and-beverage venues, the casino floor, and VIP and public spaces, and will inform future phases of the resort's development, which tentatively include a hotel, spa and convention center.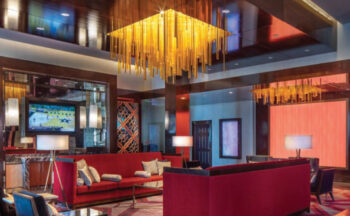 The VIP lounge is the culmination of a multimillion-dollar resort plan that was first announced by the Tohono O'odham in 2009. After multiple legal challenges, the resort's first phase was completed in 2015, with the larger project launched in December 2017. According to local media, construction workers spent more than 1 million hours building the $400 million facility.
Dr. Ned Norris, Jr., chairman of the Tohono O'odham Nation, said the projects are "creating a brighter future for the Tohono O'odham, the West Valley and Arizona… We will continue working with our partners to create even greater opportunity for us all."
With the design aesthetic developed by HBG Design team, the elegant space will continue to attract visitors to Desert Diamond West Valley—and to dazzle them all.
OWNER: The Tohono O'odham Nation
DESIGNER: HBG Design